Now is the Time to Register for National Youth Leadership Training (NYLT)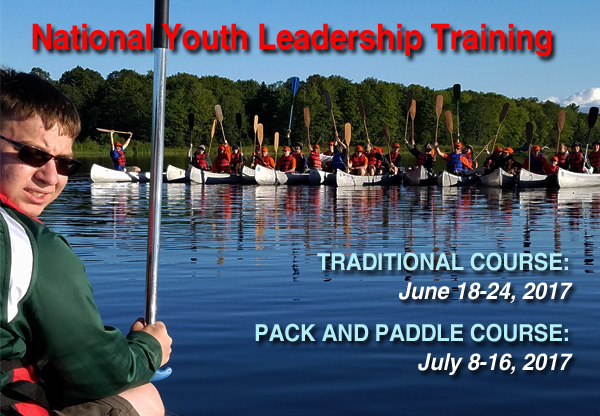 ​
Dear Boy Scout or Venturing Adult Leader,
This is just your friendly reminder that it's time to get your Boy Scouts or Vetnurers signed up to attend NYLT this summer! Venturers and Boy Scouts 13 years old or older, who are at least the rank of First Class are encouraged to attend. Scouts and Venturers should be in a Troop or Crew Leadership position or plan to in the future.
National Youth Leadership Training is a National Syllabus driven training experience conducted by the local Council. This course will give your current or future youth leadership at the Unit level the tools they need to truly help you run a Patrol Method Unit. More than that, the course will give your Scouts or Venturers leadership training and experiences they might not otherwise see until much later in life, if ever. For some, NYLT is a life impacting experience. The Scoutmaster or Venture Advisor approval is required for all participants.
Two sessions will be offered to choose from at Camp Hiawatha, near Munising, Michigan again this year.
The Traditional NYLT is our proven and popular course scheduled for June 18-24 with room for 84 participants. Pack and Paddle NYLT is scheduled for July 8-16 is a couple of days longer than the traditional course. The course work of Pack and Paddle will be similar to the traditional course, but will have the added adventure of backpacking or canoeing to primitive backcountry patrol sites each day. Pack and Paddle participants also need to have recently passed a BSA swim test, own a good backpack and boots, and be able to eat trail food for a week. 36 participants will be accepted for Pack and Paddle NYLT.
Both Courses offer a $20 discount if they are paid in full by April 1.
WARNING: In past years, courses have filled quickly, and are confirmed on a first registered basis. Once the slots for each course are filled, potential participants will be put on a waiting list, so don't delay in registering.
To register for the Traditional NYLT, click here.
To register for the Pack & Paddle NYLT, click here.